Share this article
…
Washington, DC (PRWEB) February 23, 2009 -- Singer/songwriter Stevie Wonder, the awardee of the second Library of Congress Gershwin Prize for Popular Song, will tonight (Feb. 23) premiere in a special concert a new musical work he has written on commission for the Library of Congress. The composition promises to be yet another hit that has made the artist so beloved for more than five decades.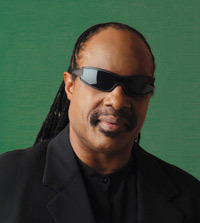 With this new work, Wonder joins other eminent composers who have received Library commissions, including Aaron Copland, Leonard Bernstein, Bela Bartók, Paquito D'Rivera and Cecil Taylor.
"Stevie Wonder has been very engaged, very excited about this work," said Susan H. Vita, chief of the Library of Congress Music Division, which commissioned the piece in conjunction with the awarding of the Gershwin Prize.
The concert launches three days of Gershwin-Prize-related events. On Wednesday, Feb. 25, President Barack Obama will present Wonder with the Library's prestigious Gershwin Prize in a special tribute concert occurring at the White House.
This concert, in celebration of African American History Month, will be taped by WETA in Washington, D.C., as part of the In Performance at the White House series, and will air on PBS stations nationwide on Thursday, Feb. 26 at 8 p.m. E.T. (check local listings) as "Stevie Wonder In Performance at the White House: The Library of Congress Gershwin Prize."
The Gershwin Prize for Popular Song was created by the Library of Congress to honor artists whose creative output transcends distinctions between musical styles and idioms, bringing diverse listeners together, and fostering mutual understanding and appreciation.
"Stevie Wonder is the epitome of what the Gershwin Prize stands for," said Librarian of Congress James H. Billington, who selected Stevie Wonder for the honor in September 2008. "He has crossed musical and cultural boundaries, and has made contributions to humanity far beyond the realm of entertainment."
The prize commemorates George and Ira Gershwin, the legendary American songwriting team whose extensive manuscript collections reside in the Library of Congress. The prize is awarded to musicians whose lifetime contributions in the field of popular song exemplify the standard of excellence associated with the Gershwins. Paul Simon, in 2007, received the first Gershwin Prize.
The Library of Congress is home to the George and Ira Gershwin Collection, the world's preeminent resource for the documentary legacy of the Gershwin brothers. It contains a wealth of materials that provide insight into their careers and personalities, including manuscripts and printed music, photographs, correspondence, business papers, scrapbooks and iconography. A permanent tribute to the Gershwins and their work, the Gershwin Room features George's piano and desk, Ira's typing table and typewriter, self-portraits of both brothers, and a selection of musical manuscripts from Gershwin stage and screen shows such as "Lady Be Good," "Funny Face," "Girl Crazy" and "Of Thee I Sing." Many of the Library's rich resources can be accessed through its Web site at http://www.loc.gov/ and via interactive exhibitions on a new, personalized Web site at myLOC.gov.
.